Unit 2 – Planning Healthy Diets
2.3 Classification of Nutrients
Food is one of life's greatest pleasures.
It offers amazing flavors, aromas, and textures. Food also provides our body with essential nutrients and non-nutrients like and , both of which are vital to health. This section will discuss the six classes of nutrients and how these nutrients can be classified.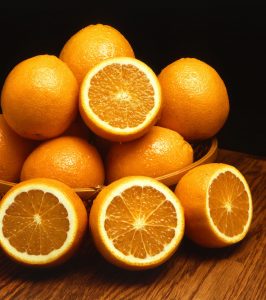 What Are Nutrients?
Nutrients are chemical substances found in food that are required by the body to provide energy, give the body structure, and help regulate chemical processes. There are six classes of nutrients:
carbohydrates
lipids
proteins
water
vitamins
minerals
Nutrients can be further classified as either macronutrients or and either or as well as whether or not they provide energy to the body (energy-yielding). Energy is measured in (kcal). We'll discuss these different ways of classifying nutrients in the following sections.
Macronutrients: Carbohydrates, Lipids, Proteins, and Water
Nutrients that are needed in large amounts are called macronutrients. The three are classes of macronutrients are carbohydrates, lipids, and proteins. Water is also a macronutrient in the sense that you require a large amount of it, but unlike the other macronutrients, it does not yield energy (or calories).se that you require a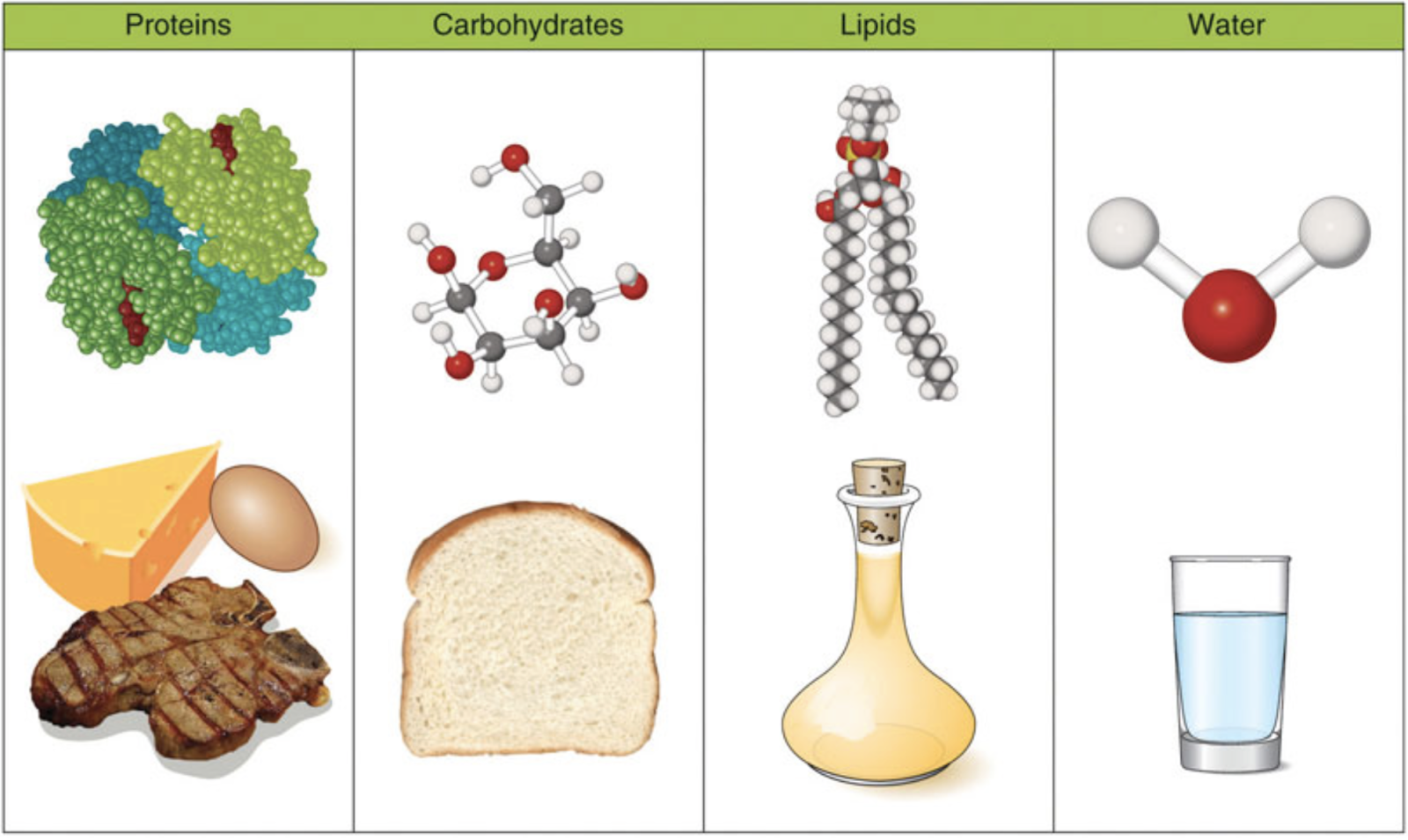 Figure 2.5. Macronutrients include proteins, carbohydrates, lipids, and water. This figure illustrates each nutrient's chemical structure and examples of food sources.
Carbohydrates
Carbohydrates are molecules composed of carbon, hydrogen, and oxygen. The major food sources of carbohydrates are grains, dairy products, fruits, legumes, and starchy vegetables, like potatoes. Non-starchy vegetables, like carrots, also contain carbohydrates, but in lesser quantities.
Carbohydrates are broadly classified into two groups based on their chemical structure: simple carbohydrates (often called simple sugars) and complex carbohydrates, which include fiber, starch, and glycogen. Carbohydrates are a major fuel source for all cells of the body, and certain cells, like cells of the central nervous system and red blood cells, rely solely on carbohydrates for energy.
Lipids
Lipids are also a family of molecules composed of carbon, hydrogen, and oxygen, but unlike carbohydrates, they are insoluble in water. Lipids are found predominantly in butter, oils, meats, dairy products, nuts and in many processed foods. The three main types of lipids are triglycerides, phospholipids, and sterols. The main job of lipids is to provide or store energy. In addition to energy storage, lipids serve as major components of cell membranes, surround and protect organs, and provide insulation to aid in temperature regulation.
Proteins
Proteins are large molecules composed of chains of amino acids, which are simple subunits made of carbon, oxygen, hydrogen, and nitrogen. Food sources of proteins include meats, dairy products, seafood, and a variety of plant-based foods, like beans, nuts, and seeds. The word protein comes from a Greek word meaning "of primary importance," which is an apt description of these macronutrients as they are also known as the "workhorses" of life. Proteins provide structure to bones, muscles, and skin, and they play a role in conducting most of the chemical reactions occurring in the body. Scientists estimate that more than 100,000 different proteins exist within the human body. Proteins can also provide energy, though this is a relatively minor function, as carbohydrates and fat are preferred energy sources.
Water
There is one other nutrient that we must have in large quantities: water. Water does not contain carbon but is composed of two hydrogens and one oxygen per molecule of water. More than 60 percent of your total body weight is water. Without it, nothing could be transported in or out of the body, chemical reactions would not occur, organs would not be cushioned, and body temperature would fluctuate widely. On average, an adult consumes just over two liters of water per day from food and drink combined. Since water is so critical for life's basic processes, we can only survive a few days without it, making it one of the most vital nutrients.
Micronutrients: Minerals and Vitamins
Micronutrients are nutrients required by the body in smaller amounts, but they're still essential for carrying out bodily functions. Micronutrients include all of the essential minerals and vitamins. There are 16 essential minerals and 13 essential vitamins (Table 1.1 and Table 1.2). In contrast to carbohydrates, lipids, and proteins, micronutrients are not a source of energy, but they assist in the process of energy metabolism as cofactors or components of enzymes (known as coenzymes). Enzymes are proteins that catalyze (or accelerate) chemical reactions in the body; they're involved in all aspects of body functions, including producing energy, digesting nutrients, and building macromolecules.
Minerals
Minerals are inorganic substances that are classified depending on how much the body requires. Trace minerals, such as molybdenum, selenium, zinc, iron, and iodine, are only required in amounts of a few milligrams or less per day. Major minerals, such as calcium, magnesium, potassium, sodium, and phosphorus, are required in amounts of hundreds of milligrams or more per day. Many minerals are critical for enzyme function, and others are used to maintain fluid balance, build bone tissue, synthesize hormones, transmit nerve impulses, contract and relax muscles, and protect against harmful free radicals in the body. To give you an appreciation of the many functions of minerals, the table below has a complete list of all the minerals and their major functions. (Note: There is no need to memorize these minerals and functions at this point in the course.)
Table 2.1. Minerals and their major functions
| | |
| --- | --- |
| Major Minerals | Major Functions |
| Sodium | Fluid balance, nerve transmission, muscle contraction |
| Chloride | Fluid balance, stomach acid production |
| Potassium | Fluid balance, nerve transmission, muscle contraction |
| Calcium | Bone and teeth health maintenance, nerve transmission, muscle contraction, blood clotting |
| Phosphorus | Bone and teeth health maintenance, acid-base balance |
| Magnesium | Protein production, nerve transmission, muscle contraction |
| Sulfur | Protein production |
| Trace Minerals | Major Functions |
| Iron | Carries oxygen, assists in energy production |
| Zinc | Protein and DNA production, wound healing, growth, immune system function |
| Iodine | Thyroid hormone production, growth, metabolism |
| Selenium | Antioxidant |
| Copper | Coenzyme, iron metabolism |
| Manganese | Coenzyme |
| Fluoride | Bone and teeth health maintenance, tooth decay prevention |
| Chromium | Assists insulin in glucose metabolism |
| Molybdenum | Coenzyme |
| | |
Vitamins
Vitamins are organic nutrients that are categorized based on their solubility in water. The are vitamin C and all of the B vitamins. The are vitamins A, D, E, and K. Vitamins are required to perform many functions in the body, such as making red blood cells, synthesizing bone tissue, and playing a role in normal vision, nervous system function, and immune function. To give you an appreciation of the many functions of vitamins, the table below lists the 13 essential vitamins and their major functions. (Note: There is no need to memorize these vitamins and functions at this point in the course. We will discuss a few in more detail later.)
Table 2.2. Vitamins and their major functions
| | |
| --- | --- |
| Water-Soluble Vitamins | Major Functions |
| Thiamin (B1) | Coenzyme, energy metabolism assistance |
| Riboflavin (B2 ) | Coenzyme, energy metabolism assistance |
| Niacin (B3) | Coenzyme, energy metabolism assistance |
| Pantothenic acid (B5) | Coenzyme, energy metabolism assistance |
| Pyridoxine (B6) | Coenzyme, energy metabolism assistance |
| Biotin (B7) | Coenzyme, amino acid and fatty acid metabolism |
| Folate (B9) | Coenzyme, essential for growth |
| Cobalamin (B12) | Coenzyme, red blood cell synthesis |
| C (ascorbic acid) | Collagen synthesis, antioxidant |
| Fat-Soluble Vitamins | Major Functions |
| A (Retinol) | Vision, reproduction, immune system function |
| D (Calciferol) | Bone and teeth health maintenance, immune system function |
| E (alpha-Tocopherol) | Antioxidant, cell membrane protection |
| K (phylloquinone) | Bone and teeth health maintenance, blood clotting |
| | |
As you might suspect based on the major functions of vitamins listed above, vitamin deficiencies can cause severe health problems and even death. For example, a deficiency in niacin causes a disease called , which was common in the early twentieth century in some parts of the United States. The common signs and symptoms of pellagra are known as the "4D's—diarrhea, dermatitis, dementia, and death." Until scientists discovered that better diets relieved the signs and symptoms of pellagra, many people with the disease ended up hospitalized and in asylums awaiting death. The following video gives an overview of pellagra and how its cure was discovered through a change in diet.
VIDEO "Pellagra video" by Teresa Johnson, YouTube (June 20, 2012), 5:49 minutes.ent he
Energy-Yielding Nutrients: Carbohydrates, Proteins, and Fats
The macronutrients—carbohydrate, protein, and fat—are the only nutrients that provide energy (calories) to the body. The energy from macronutrients comes from their chemical bonds. This chemical energy is converted into cellular energy that can be utilized to perform work, allowing cells to conduct their basic functions. The chemical bonds in vitamins and water can't release this energy are not considered energy-yielding nutrients.
Food energy is measured in kilocalories (kcals). A kilocalorie is the amount of energy needed to raise 1 kilogram of water by 1 degree Celsius. The kilocalories stored in food can be determined by putting the food into a bomb calorimeter and measuring the energy output (energy = heat produced) as illustrated in Figure 2.6 and in the video below.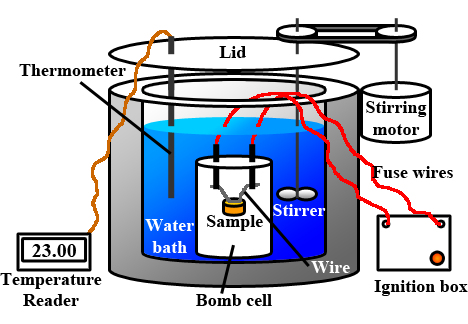 Figure 2.6. A Bomb calorimeter
VIDEO: "Bomb Calorimetry" By David Read, YouTube (September 16, 2008), 2:19 minutes.
In the US, the kilocalorie (kcal) is the most commonly used unit of energy and is often just referred to as a calorie. Strictly speaking, a kcal is 1000 calories. In nutrition, the term calories almost always refers to kcals. Sometimes the kcal is indicated by capitalizing calories as "Calories." For the sake of simplicity, we'll use the terms "calories" and "kilocalories" interchangeably in this book.
Below is a list of energy sources in the diet from lowest to highest calories per gram (a gram is about the weight of a paperclip). Notice the addition of alcohol. Although alcohol does provide energy, it isn't a nutrient, because it isn't required as a source of nourishment to the body.
Energy Sources (kcal/g)
Carbohydrates 4
Protein 4
Alcohol 7
Fats 9
Carbohydrates and proteins provide 4 calories per gram, and fats provide 9 calories per gram. Fat is the most energy-dense nutrient, because it provides the most calories per gram (more than double carbohydrates and protein).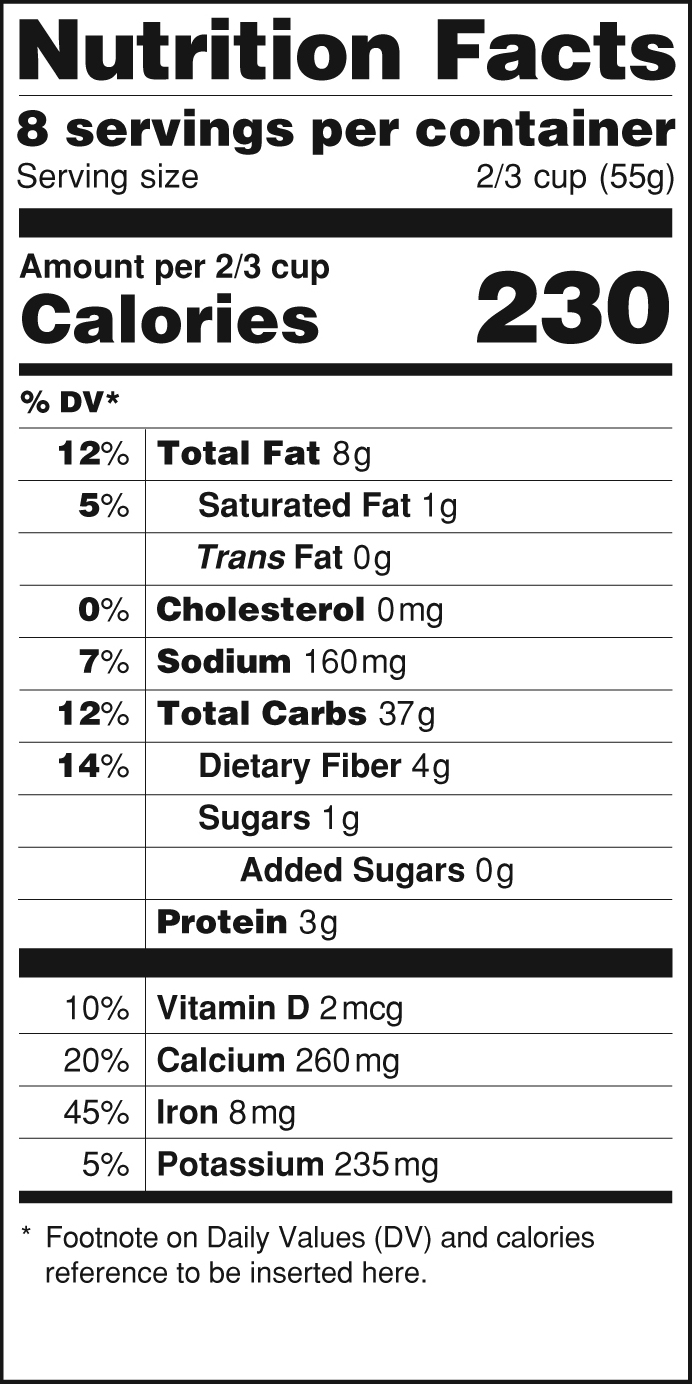 When you look at the Nutrition Facts panel on a food label, you'll see that it lists calories, as well as grams of total fat, total carbohydrates, and protein per serving. From these values, you can estimate the amount of calories coming from the different macronutrients.
Looking at the values in the Nutrition Facts label, you can convert grams into calories by doing the following calculations:
8 grams of fat x 9 kcal/g = 72 kcals
37 grams of carbohydrate x 4 kcal/g = 148 kcals
3 grams of protein x 4 kcal/g = 12 kcals
You can double check your math by adding the calories per serving provided from fat, carbohydrate, and protein (232 calories for the example above). This number should come close to the total calories per serving listed on the Nutrition Facts. It will not always match up exactly (like in the example above) due to rounding.
Organic vs. Inorganic Nutrients
So far, we've categorized nutrients as macronutrients or micronutrients and based on whether or not they're energy-yielding. There is one more way to categorize nutrients: organic or inorganic. When you think of the word "organic," you might think of how foods are produced (with or without synthetic fertilizers and pesticides), but in this case we are referring to the chemical structure of a nutrient.
Organic Nutrients
The organic nutrients include the macronutrients (carbohydrate, protein, and fat) and vitamins. An organic nutrient contains both carbon and hydrogen. Organic nutrients can be made by living organisms and are complex, made up of many elements (carbon, hydrogen, oxygen, and sometimes nitrogen) bonded together. In a sense, they are "alive," and therefore can be destroyed or broken down.
Vitamin E (shown below) is an organic molecule, because it contains both carbon and hydrogen atoms. Vitamin E is synthesized by plants and can be destroyed by heat during cooking.

Figure 2.8. Chemical structure of Vitamin E
Inorganic Nutrients
Inorganic nutrients include both water and minerals. Inorganic nutrients do not contain both carbon and hydrogen, and they are not created or destroyed. Minerals can't be destroyed, so they are the ash left when a food is burned to completion. Minerals are also not digested or broken down, as they are already in their simplest form. They are absorbed as-is, then shuttled around the body for their different functions, and then excreted.
Summary
The different categories of nutrients are summarized in the following table.
Table 2.3. Summary of nutrient classifications
| | |
| --- | --- |
| Classification | Nutrient |
| Macronutrient | Carbohydrate, protein, lipids, water |
| Micronutrient | Vitamins, minerals |
| Energy (Calorie)-Yielding | Carbohydrate, protein, fat |
| Organic | Carbohydrate, protein, lipids, vitamins |
| Inorganic | Minerals, water |
| | |
Make a list of some of your favorite foods. Then visit the "What's In the Foods You Eat?" search tool provided by the USDA. What are some of the nutrients found in your favorite foods?

After watching the video about the history of pellagra, discuss with your class the "progression of science" and its significance to human health as depicted in the video. Do the methods used to identify pellagra
Non-nutrient chemicals naturally found in plants that have health benefits. (Phyto refers to plants.)
Health promoting substances in animal foods that are believed to provide health benefits beyond the traditional nutrients that food contains.
Carbohydrates, proteins, lipids, vitamins, minerals and water.
Vitamin and minerals that are need in "microscopic" amounts. Young women need only 18 mg of iron and 75 mg of vitamin C Protein is a macronutrient because women need about 50 to 60 grams of it each day.
In chemistry and nutrition, organic means carbon containing.
As related to chemistry, a substance that does not contain carbon
Food and Nutrition: Go Hand in Hand
A study of nutrition is incomplete without discussing food — the two go hand in hand. Food is the delivery vehicle of to our bodies, and those nutrients are vital for the color, flavor, texture, and even shape of food.
For example, it's well known that milk is an excellent source of calcium and protein, both needed to build strong bones. When we look at a glass of milk, the white color results from light refracting and scattering on the milk's protein and calcium. [1]
And everyone knows that eating carrots provides us with the vitamin A needed for vision. That vitamin A is beta-carotene, the bright orange pigment that gives carrots their vibrant color.
And the sweet flavors of grapes, melons, and oranges are related to the fructose, also known as fruit sugar. And that sweetness makes us enjoy eating them.
Adding eggs to pancakes provides a high quality protein that is needed to help maintain our muscles. That muscle-building protein in eggs makes the pancake batter fluffy and gives cooked pancakes a nice golden color.
An apple is a great sources of fiber — that fiber is responsible for the fruit's crisp texture and round shape.
We begin our exploration of this food/nutrition duo by taking a glimpse at how these nutrient-packed foods go from farm to kitchen. This unit begins with a basic background on foods, followed by important food safety tips to prevent foodborne illnesses. We end with kitchen safety rules including knife skills, appropriate attire for cooking, and kitchen fire prevention.
Recognize what a food system is and how each step is involved in providing safe foods.
Compare the roles that the CDC, USDA, FDA and EPA have on the foods we consume and health of the nation.
Describe food processing and preservation techniques designed to improve the safety of our food supply.
Explain how safe food handling practices help prevent foodborne illnesses.
List and discuss FDA's fours steps for safe food handling.
Describe the three major types of food contamination and causes of each.
Identify the most common causes of foodborne illness and populations at risk for contracting each.
Explain the meaning of FAT TOM as related to food safety.
Describe consumer-level techniques for avoiding foodborne illness
Demonstrate kitchen safety practices to avoid injuries during food preparation.
The B-complex vitamins and vitamin C.
Vitamins A, D, E, and K anc classes as fat-suluble because they are typically found with fatty foods and act like fats in the body.
What Are Genetically Modified Foods?
Genetically modified (GM or GMO) foods are one of the most hotly debated topics of the twenty-first century. Scientists prefer using the term "bioengineered" (BE). In 2016, Congress passed the National Bioengineered Food Disclosure Law, that requires a labels indicating "Bioengineered" or 'Derived from Bioengineering'. Basically, GM or BE means that the plants or animals have undergone some form of genetic engineering.
In the United States, much of the soybean, corn, and canola crops are genetically engineered. Unlike conventional breeding and the process involves the alteration of an organism's DNA, which allows farmers to cultivate plants with desirable characteristics. The technology enables the direct transfer of genes between organisms in different species that would not breed in nature. [2]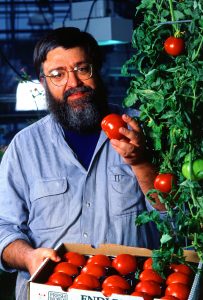 For example, early scientists tried extracting a gene that produces a chemical with antifreeze properties from a cold-water fish. They thought splicing the gene into a completely different species, such as a tomato, would make them resistant to frost. If they had been successful, It would allow farmers to grow that crop year-round.[3] Sadly, this type genetic modification did not produce freeze resistant tomatoes. Other types of genetic modification of tomatoes have been tried, with no success. Today's tomatoes are not genetically modified. [4]
To find out which ten GM crops are grown in the United States, see the FDA GMO infographic or watch the short video.
Certain modifications can be beneficial in resisting pests or pesticides, improving the ripening process, increasing the nutritional content of food, or providing resistance to common viruses. Although genetic engineering has improved productivity for farmers, it has also stirred up debate about consumer safety and environmental protection. Possible side effects related to the consumption of GM foods include an increase in possible allergic reactions. There is also some concern related to the possible transfer of the genes used to create genetically engineered foods from plants to people. This could influence human health if antibiotic-resistant genes are transferred to the consumer. Therefore, the World Health Organization (WHO) and other groups have encouraged the use of genetic engineering without antibiotic-resistance genes. Genetically modified plants may adversely affect the environment as well and could lead to the contamination of non-genetically engineered organisms.[5]
Regulation of Genetically Modied Foods
In the United States, genetically modified foods fall under the purview of the EPA, the USDA, and the FDA. Each agency has different responsibilities and concerns in the regulation of GM crops. The EPA ensures that pesticides used for GM plants are safe for the environment. The USDA makes sure genetically engineered seeds are safe for cultivation prior to planting. The FDA determines if foods made from GM plants are safe to eat. Although these agencies act independently, they work closely together and many products are reviewed by all three.[6]